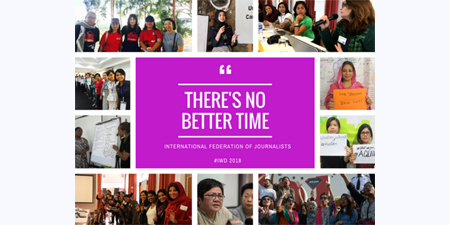 JournalismPakistan.com March 08, 2018


Today, on International Women's Day, the International Federation of Journalists (IFJ) Asia-Pacific and its affiliates across the region launched the campaign "IFJ Women Lead".
The IFJ's 2018 campaign is a key stage in a long-term and progressive strategy for the IFJ and its affiliates in the Asia-Pacific to take affirmative and defined action on improving gender equity in union leadership.
"While we know that the ranks of women journalists and media workers continue to grow in Asia and the Pacific, we are still not seeing women in key decision-making roles in the unions and organisations that represent them," the IFJ said. "IFJ research has revealed the lack of visibility in unions, so this is about pushing the conversation into action. For women to be adequately represented in unions and have their rights and issues advocated for, they need to claim their rightful place at the helm of media unions."
The "IFJ Women Lead: Building Strategies for Female Leadership in Unions" launches today for International Women's Day using the slogan No better time! and will continue to build as a progressive check on union leadership for the region."
The IFJ said some unions are already leading in gender equity in leadership, such as Taiwan where women make up 56% of the ATJ executive, and in Hong Kong where women make up 58% of the HKJA executive, but more unions should follow.
Unions must tackle head-on the lack of gender equity and adopt best practices. Active mentoring, capacity building, leadership training, policies against sexual harassment and active engagement are all steps that unions can implement to make immediate and lasting changes.
The IFJ said: "Change can take time when we are talking about constitutions and electoral terms. It is also hampered by cultural, religious and social influences in many countries. But our affiliates agree that there is no better time than now to put words into action. It is time for unions to commit to leading the change in gender equity in the media from within and take a good, hard look at themselves and ask what they can do better to represent their members."
In its 2015 report Inside the News the IFJ recommended that: "Unions must take active steps to increase women's union representation. Unions should amend constitutions and statues to make structures more 'women-friendly' and commit to the promotion of gender equality in all union approaches. All unions should implement union gender equity and model sexual harassment policies based on policies already in place and operating in the region. Unions must create a checklist for union action on gender equity in workplace activity, action with employers and action with governments. This should include articles against sexual harassment in collective bargaining agreements and lobbying governments for improved sexual harassment legislation."
The IFJ said: "Today we recognize the work that our affiliates across the region have undertaken to promote and guarantee gender equity for journalists and media workers. But without proper female representation, unions fail to be effective democratic bodies, working to promote the rights of all workers. Now is the time for more women to lead and influence change in our industry." – IFJ media release