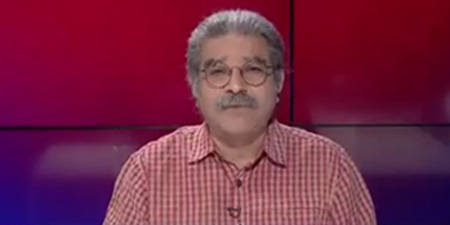 JournalismPakistan.com June 14, 2019


ISLAMABAD — In a hard-hitting tweet on Friday, Minister for Science and Technology, Fawad Chaudhry said he had initiated criminal proceedings against journalist Sami Abraham (pictured) for defamation.
The minister, who has earlier used slurs against the journalist was equally unforgiving in his latest tweet. "Have initiated criminal proceedings against #PoniTail and his abbu jan for defamation another #Tidda must know I saved him in the past from many cases he is too small physically and mentally lesson ll be taught as per law."
Commenting on the political situation last month Sami had said in a video that Prime Minister Imran Khan would face conspiracies and alleged that Fawad Chaudhry would lead a splinter group within the ruling party opposing the premier. The minister then came up with harsh tweets against Sami.
Commenting on the slurs by the minister, Dawn said: "No one can deny Fawad Chaudhry the right to respond and rebut such preposterous allegations made against him, but at the same time it doesn't behoove him as a minister, an MNA, and a civilised human being, that he resort to such unparliamentary language and unethical manner to make his point."
Sami is the presidennt and managing director of BOL News.