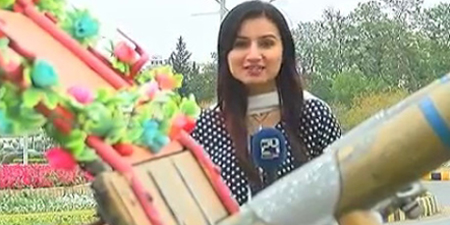 JournalismPakistan.com July 24, 2017


The International Federation of Journalists (IFJ) has condemned the harassment and detention of two reporters by a state agency in Islamabad on July 21.
The IFJ demanded action against the officials involved in the harassment and unlawful detention.
Saba Bajeer (pictured) of Channel 24 and Aitzaz Hassan of DawnNews were manhandled and illegally detained for an hour by the Federal Investigation Agency (FIA) officials at the Pakistan Institute of Medical Sciences (PIMS) where they were on assignment to report an arrest.
The FIA had brought Securities and Exchange Commission of Pakistan (SECP) Chairman Zafar Hijazi for a medical check-up after his arrest.
Bajeer took photos using her cell-phone when FIA officials approached her, grabbed her by the arm and asked her to delete the photos. The FIA officials then started pushing Hassan, on whose suggestion Bajeer had proceeded to delete the photos. Hassan's mobile phone and cards were then snatched.
The journalists were taken to an empty room of PIMS and detained for an hour without giving them access to phone. They were released after other journalists at the venue protested. Hassan had filed an application with the police for legal action against the harassment.
The IFJ said: "The IFJ condemns the actions of the Federal Investigation Agency (FIA) of Pakistan in disallowing journalists to report freely on an arrest of public interest, and harassing them by forcing them to delete photographs and detaining them for an hour. This is a violation of the media rights and the IFJ urges the Pakistan government to take action against the officials involved in the incident." – IFJ media release