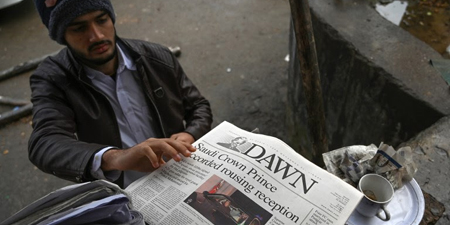 JournalismPakistan.com April 01, 2019


Several journalists were placed on a 'watch list' by the Pakistan Federal Investigation Agency (FIA) Cybercrime Wing over criticism of Saudi Crown Prince Mohammed Bin Salman during his visit to Pakistan in February 2019.
The International Federation of Journalists (IFJ) and the Pakistan Federal Union of Journalists (PFUJ) have condemned the attempts to intimidate and silence the media.
According to reports, at least five journalists and one blogger were placed on the 'watch list' as part of a 'targeted social media campaign.' The registered inquiries against the journalists were listed on a letter signed by the FIA Additional Director Cybercrime Wing, Chaudhry Abdul Rauf.
According to the letter, which was verified by DawnNews TV, all additional FIA directors were ordered to submit daily reports on their inquiries to the Deputy Direct Ayaz Khan.
Specifically referring to the journalists, the letter said that those activists had displayed pictures of murdered Saudi journalist, Jamal Khashoggi on their social media channels and changed their display pictures, which conveyed a very disrespectful message to the visiting guest.
The letter said: "A targeted social media campaign was planned/executed against the [crown prince's] visit, during which [a] few social media activists and groups remained particularly consistent/active till the very last day of the visit… These activists displayed the picture of murdered Saudi journalist Jamal Khashoggi on their social media profile DPs which conveyed a very disrespectful message to the visiting guest."
PFUJ is in contact with the named journalists, and so far none of the agencies including FIA have contacted them regarding the notice issued by the ministry. However, PFUJ condemns attempts to stifle the media and will continue to fight for the right of freedom of the media and expression. "We reiterate that journalism is not a crime."
The IFJ said: "The fact that the Pakistani government deems the use of a murdered journalists' image on social media reason enough for the monitoring of journalists raises serious questions about freedom of expression in Pakistan. Putting journalists on a 'watch list' for simply advocating for journalist safety and the widely criticized murder of Jamal Khashoggi is a blatant attempt to silence critical voices and intimidate the media. We reiterate PFUJ's comments; journalism is not a crime." – IFJ media release/Photo: Aamir Qureshi-AFP