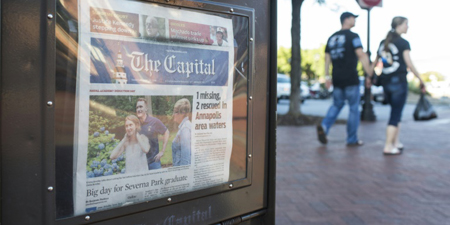 JournalismPakistan.com June 29, 2018


At least five people were killed Thursday when a gunman opened fire inside the Capital Gazette newspaper offices in Annapolis, a historic city an hour east of Washington.
Police described the suspect - who was being questioned in custody - as a white adult male who was armed with a rifle or a shotgun and appeared to have acted alone.
A reporter for the daily, Phil Davis, tweeted a chilling account of how the "gunman shot through the glass door to the office and opened fire on multiple employees."
"There is nothing more terrifying than hearing multiple people get shot while you're under your desk and then hear the gunman reload," Davis said.
There were five known fatalities, the acting police chief of Anne Arundel county, Bill Krampf, told a news conference in Maryland's capital.
Lieutenant Ryan Frashure, a police spokesman, said three other people had been injured.
Anne Arundel county executive Steve Schuh added on CNN that the suspect "has not been particularly cooperative."
Krampf said police had disposed of a suspected explosive device and that the four-story office building was now secure.
Capital Gazette editor Jimmy DeButts tweeted that he was "devastated & heartbroken. Numb."
"I'm in no position to speak, just know @capgaznews reporters & editors give all they have every day. There are no 40 hour weeks, no big paydays - just a passion for telling stories from our community," DeButts wrote.
Chase Cook, a reporter at the newspaper, said the shooting would not stop The Capital - the local print edition - from going to press.
"I can tell you this: We are putting out a damn paper tomorrow," he tweeted.
Gracie Rustin, a dental assistant who was in the middle of a procedure on the second floor of the building when the attack took place, heard "loud noises" but did not immediately realize it was a shooting.
Then police rushed in and "were like, 'Leave, leave, leave!'" Rustin told AFP.
While it was not yet clear if journalists were deliberately targeted, the shooting revived memories of a 2015 incident in Roanoke, Virginia in which two journalists were shot dead during a live broadcast on local television.
"Every shooting like this is horrific but one that occurs in a place of journalism is particularly disturbing and brings back the flood of memories of that tragic day for me," said Andy Parker, whose daughter Alison was one of the Roanoke victims.
President Donald Trump, who has been at loggerheads with much of the media since taking office, tweeted a message of support.
"My thoughts and prayers are with the victims and their families. Thank you to all of the First Responders who are currently on the scene," he wrote. - Text and Photo: AFP