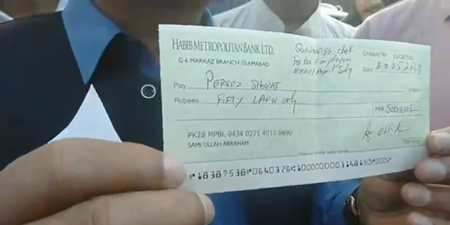 JournalismPakistan.com May 06, 2019


ISLAMABAD – Following a protest on Monday journalist union leaders claimed some success in their bid to get BOL News employees their unpaid wages.
The Pakistan Federal Union of Journalists (PFUJ) and Rawalpindi-Islamabad Union of Journalists (RIUJ) organized the protest in front of BOL offices.
The protesters took away the key of the channel's President and Managing Director Sami Abraham's vehicle as he arrived at work.
The journalists later returned the key after the official gave a guarantee cheque for Rs 5 million. He assured them that wages for March and April of current employees would be paid by May 20.
PFUJ President Pervaiz Shaukat said that if the managers did not pay the salaries by the agreed date, he would encash the cheque for Rs 5 million and pay off the wages to employees.
Sami Ibrahim also gave a written undertaking on behalf of BOL CEO Shoaib Shaikh stating that wages would be cleared by May 20. He also assured clearing outstanding dues of other employees after Eid.
Shaukat disclosed that he had filed a petition in the Supreme Court against Ibrahim and Shaikh, and Rameeza Majid Nizami of the Nawa-i-Waqt Group for defying a court order on payment of dues to employees.
Monday's protest outside BOL News offices was the second in four days.