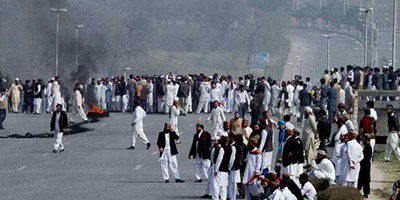 JournalismPakistan.com March 02, 2016


ISLAMABAD - The Rawalpindi-Islamabad Union of Journalists has condemned the attack on media persons covering the funeral of Mumtaz Qadri and called for arrest of perpetrators.
In a statement, union's secretary Bilal Dar said journalists, photographers and DSNG crew out in the field do not have the power to decide what goes on air and what not.
The media persons were beaten up and their equipment snatched by the crowd after coverage of the funeral was blacked out by most television channels.
Those who were attacked included journalists and media workers associated with Reuters, NewsOne TV, Jehan Pakistan and a few other organizations.
RIUJ has called for immediate arrest of the attackers.
Related posts from JournalismPakistan.com Archives:
RIUJ forms committee after threats to Hamid Mir, two others
RIUJ constitutes two committees
TV reporter gunned down in Khairpur; RIUJ protests killing