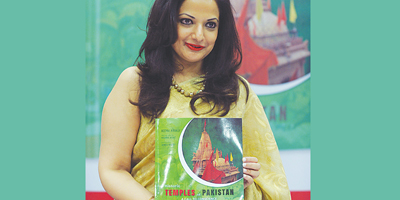 JournalismPakistan.com September 01, 2014
NEW DELHI: Pakistan's Reema Abbasi, a journalist and author of 'Historic Temples in Pakistan: A Call to Conscience', has been declared best literary personality of the year at the 5th Rajiv Gandhi Excellence Awards in New Delhi.
Pehchaan, an NGO that works on nurturing the girl child, organized the event. "It started as a guerilla project, Madiha (photographer) and I just heading out on our own to all kinds of territory. But this book had to be done to make a difference to how the two countries see each other," the website newhub.shafaqna.com quoted Reema as saying about her work.
There are over 70 lakh Hindus in Pakistan, mostly in the borderland deserts of the south and in Sindh. Their numbers are dwindling though because of extremist threat. The ancient temples - over 40 of them - are places of worship for them and for pilgrims from India and elsewhere too.