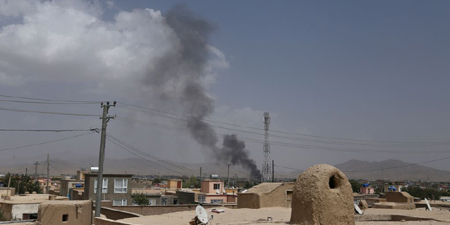 JournalismPakistan.com August 13, 2018


Taliban attacks on Ghazni province in Afghanistan saw the incineration of a local radio and television station and the death of media technician Mohammad Dawood on Sunday, August 12, 2018.
The International Federation of Journalists (IFJ) joins its affiliate the Afghan Independent Journalists Association (AIJA) in strongly condemning the brutal fallout of the Taliban's three-day assault that killed at least 16 people and called an end to the violence and attacks on media which also interrupted media reporting of the conflict.
On August 10, Taliban forces stormed Ghazni city, 148 kilometers southwest of capital Kabul, attempting to seize the city by force. The massive attacks resulted in large numbers of casualties including that of Dawood, with as many as 100 as-yet-unconfirmed killings, in the heavy fighting between the Taliban and Afghan security forces and the torching of many government buildings.
The staff of Ghaznvian Radio and Television was not inside the building at the time it was torched by the Taliban. All local media and telecommunication services ceased from August 10 with media offices closed and journalists refused access to their offices to file reports.
AIJA President, Rahimullah Samandar, said: "Journalists and media houses are civilian side, killing media workers and burning media houses amounts to war crime. We are seriously concerned about safety of remaining journalists in a heavy fighting zone with no rescue operations."
The AIJA called on the Taliban to adhere to international standards protecting media and journalists as civilians and to cease the destruction and burning media houses.
The IFJ said: "The IFJ condemns the burning down of the radio and television station in Ghazni province and killing of a media staff by the Taliban. Such attacks are not only violation of press freedom but also heinous crime. The IFJ urges the Afghan government to ensure security of the media and journalists on the ongoing war; and urges all sides to respect press freedom and human rights." – IFJ media release/Photo: AFP