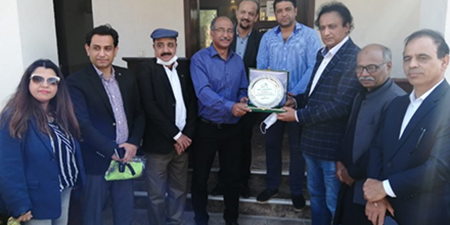 JournalismPakistan.com March 02, 2021


ISLAMABAD—Ayaz Akbar (Geo TV) and Arif Khan (K-2 TV) were elected president and secretary-general Rawalpindi-Islamabad Sports Journalists Association (RISJA) during a general Council meeting held at the Gun Club.
Thirty-nine members unanimously reposed trust in the panel for a one-year term.
Abid Zahoor Malik (senior vice president), Leena Moin (vice president), Sohail Raja (finance secretary), Khurram Awan, and Hafiz Ubaid (associate secretaries) were the others elected at the meeting.
The house also finalized an executive committee comprising Faheem Anwar Khan, Gabriel de Souza, Kashif Abbasi, Shaharyar Khan, Amna Bilal, Faheem Akhtar, Mazhar Javed, Faisal Sahi, and Asghar Ali Mobarik.
Chairman RISJA Abdul Mohi Shah thanked the members for reposing trust in the panel.
RISJA also presented life-membership shields to three veteran sports journalists who formed the association in 1986—Faheem Anwar Khan, Imran Naeem Ahmad, and Abdul Mohi Shah.
The association also honored one of its senior members Mohsin Ijaz who was elected the secretary-general Supreme Court Journalists Association with an overwhelming majority.
Newly elected President Ayaz Akbar declared that newcomers would have to complete five years in journalism to get permanent membership of the association. He said sports journalists who had completed 25 years in active sports journalism would get permanent RISJA membership.