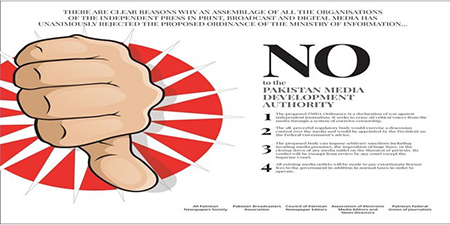 JournalismPakistan.com June 03, 2021


ISLAMABAD—The message from five leading media bodies was loud and clear on Thursday—a big NO to the proposed Pakistan Media Regulatory Ordinance, 2021.
In adverts published in several newspapers, APNS, PBA, CPNE, AEMEND, and PFUJ said there were clear reasons why an assemblage of all independent press organizations in print, broadcast, and digital media has unanimously rejected the proposed ordinance of the Ministry of Information.
The prominently displayed adverts list four reasons for the ordinance's rejection:
It is a declaration of war against independent journalism and seeks to erase all critical voices from the media through a system of coercive censorship.
The all-powerful regulatory body would exercise draconian control over the media and be appointed by the president on the federal government's advice.
The proposed body can impose arbitrary sanctions, including invading media premises, fines, or the closing down of any media outlet on the flimsiest of pretexts. Its verdict will be exempt from review by any court except the Supreme Court.
All existing media outlets will be made to pay extortionate license fees to the government in addition to regular taxes to operate.