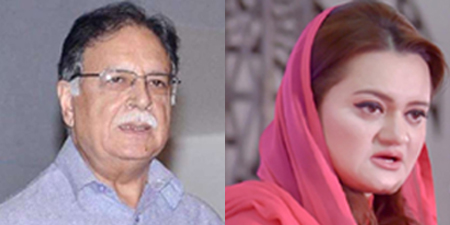 JournalismPakistan.com August 21, 2018


ISLAMABAD – Prominent television presenter Dr Shahid Masood on Tuesday claimed that the National Accountability Bureau (NAB) was set to initiate an inquiry against former PML-N Information Ministers Pervez Rashid and Maryam Aurangzeb.
He alleged that soon after coming into power in 2013 Prime Minister Nawaz Sharif released Rs1.4 billion for some of his favorite newspapers. Another Rs 4.6 billion was given to select TV channels in the shape of advertisements.
Meanwhile, in 2014 when the Pakistan Tehreek-i-Insaaf was staging a sit-in, the PML-N government released another Rs 2.2 billion specifically to present Nawaz Sharif's point of view.
Investigations into these huge sums given to media houses have started, the presenter disclosed in his show Live with Dr Shahid Masood on NewsOne Television.
He said that later when the Panama Papers emerged, the Information Ministry gave away Rs2.8 billion to newspapers and Rs2.6 billion to television channels. This money was released officially, he pointed out.
He also said that unofficially people were obliged in different ways, like a person the party liked being appointed in a certain channel and his salary being paid by the Prime Minister House.