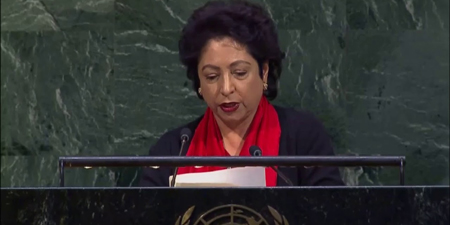 JournalismPakistan.com February 12, 2018


NEW YORK - Pakistan's Ambassador to the United Nations (UN), Maleeha Lodhi, was named as one of the world's "five successful women diplomats" by a popular Russian news website, according to a report by Russia's official news agency.
The report, citing the website — Gazeta.ru — was carried by RIA Novosti, a state-owned domestic Russian-language news agency.
Describing Ambassador Lodhi as "one of the most famous female figures in the Muslim world," Gazeta.ru noted that she twice served as Pakistan's Ambassador to the United States. Another important diplomatic assignment she held was as the High Commissioner to Britain, after an illustrious career in journalism, especially as editor of The News International.
Gazeta.ru also noted that Dr. Lodhi was the first Pakistani woman to serve as Permanent Representative and Chief Delegate to the United Nations.
In 1994, she was selected by Time magazine as one of 100 people in the world "the only one from Pakistan" who would help shape the 21st century.
Ambassador Lodhi served on UN Secretary General's Advisory Board on Disarmament Affairs (2001-2005) and is a member of the Advisory Council of the London-based Institute of Strategic Studies.
Other distinguished women on the list are: Eleonora Mitrofanova, a Russian diplomat who also served as Deputy Director General of Paris-based UNESCO; Roza Otunbayeva, a Kyrgyz diplomat who twice served as foreign minister of the former Soviet Kirghizia; Rene Jones-Bos, a Dutch diplomat who served as Netherlands' ambassador to Russia, and Alva Myrdal, a Swedish diplomat who also served in the UNESCO system, where she studied the problems of disarmament. In 1967, she joined the Social Democratic Cabinet of Ministers Tage Erlander as special commissioner for disarmament issues, eventually winning the Nobel Peace Prize.
Detailing her career, the Russian website noted that Ambassador Lodhi's success in journalism set the stage for her diplomatic career. She was first selected by the late Prime Minister Benazir Bhutto to serve as Pakistan's Ambassador to the United States. She served in that capacity for three years and was to later return to hold this post for another term. - APP