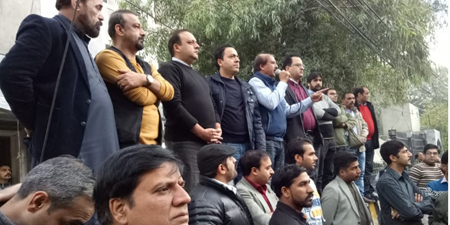 JournalismPakistan.com December 17, 2018


LAHORE – A Joint Action Committee of Journalists on Monday staged a sit-in and locked up the offices of Jang-Geo Group in Lahore in protest over massive job cuts by the media house.
The action appeared to have an impact as the management began negotiating with the protesters.
The locking up prevented anyone being able to enter the offices, and those inside were unable to come out. They also blocked the road in front of the offices for some time and burnt tyres.
The protesters chanted slogans against the Jang management as their leaders called for immediate reinstatement of all the sacked employees. They threatened to go for even more drastic measures if their demand was not met.
About 200 staffers were dismissed from Jang Lahore last week while the strength at the paper's Karachi center was cut down by almost 50 percent. In Peshawar too, the group laid off many workers.
The management also shut down some of its publications including Awam and Daily News.