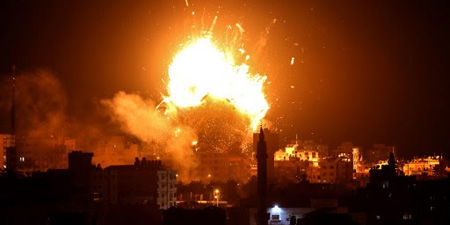 JournalismPakistan.com November 13, 2018


BRUSSELS - Al-Aqsa, a television station in Gaza linked to Hamas, was destroyed on Monday, November 12 after a series of targeted airstrikes by Israeli forces.
The International Federation of Journalists (IFJ) joined its affiliate, the Palestinian Journalists Syndicate (PJS) in condemning this latest Israeli attack on media houses and journalists in Palestinian territories.
The strike came after further violence between Israeli and Hamas forces in Gaza. No casualties or injured media workers have been reported.
Workers were believed to have evacuated after Israeli forces fired a series of warning shots.
Hamas confirmed that the building was entirely destroyed and vowed to respond. The military forces of Israel acknowledged having targeted the building, explaining in a statement that the TV is, according to them, "owned and operated by Hamas" and used for military activities, including sending messages to terror operatives.
In December 2008, Israel had also bombed the TV station, during the war in Gaza strip.
In a statement released on Monday, the PJS condemned the attack as "a crime against all Palestinian media." The PJS also called on all Palestinian journalists "to show solidarity with journalists of Al Aqsa TV."
The IFJ strongly condemns this latest violent attack targeting media conducted by Israeli forces and calls on Israel to stop the violence against all Palestinian media. We also show our solidarity with all Palestinian journalists, who everyday work in dangerous conditions and face real dangers to cover the conflict in the region. - IFJ media release