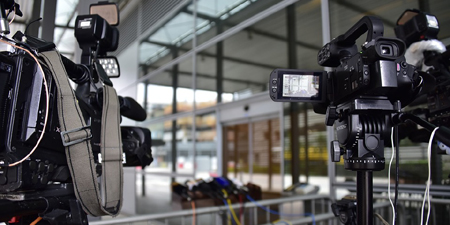 JournalismPakistan.com October 02, 2018


ISLAMABAD – Top daily Dawn says media freedom is at its lowest point when journalists are forced to operate in an increasingly hostile environment.
In an editorial headlined 'Protecting the media' published on Tuesday, the paper pointed out that the rapid deterioration of press freedom had prompted the main faction of Pakistan Federal Union of Journalists (PFUJ) to call for a protest on October 9.
The paper commented that there is increasing pressure on media houses to conform to the narrative spun by various state institutions.
"The relentless pressure on journalists is such that self-censorship is now the new normal."
The editorial said it was unfortunate is that polarization within the media had also eroded press freedoms. "Journalists say the principle threat to their safety has come from the establishment — especially during civil-military tensions, with the media struggling to report both sides."
"Resultantly, dissenting views have been purged with authoritarian vigour, newspaper sales restricted and television broadcasts blocked. Journalists crossing 'red lines' by reporting on sensitive subjects (the military, religion, militancy, the courts etc) often pay the price."
The paper called on the PTI government to recognize that restrictions on freedom of expression and information under the pretext of 'national security interest' have detrimental consequences.
"Without independent journalism, democracy can have little chance of survival."