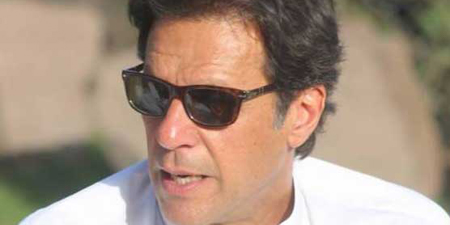 JournalismPakistan.com July 10, 2017


ISLAMABAD – Pakistan Tehreek-i-Insaf Chairman Imran Khan Monday criticized the Jang Media Group for "protecting a criminal" and trying to change the narrative.
He said he was grateful the Supreme Court had issued a contempt notice to The News for a story published Monday - Panama JIT 'doesn't find PM guilty,' but his sons.
"To protect a criminal, the entire Jang Group was changing the narrative. Their journalists publish a story and the next day PML-N ministers start talking about it. They have all attempted to make the JIT controversial," Imran alleged.
He said this was the reason why his party boycotted the Jang Group.
The story by Ahmad Noorani appeared the day the JIT that probed Prime Minister Nawaz Sharif and his family for alleged money-laundering submitted its report to the Supreme Court.
Imran said the Jang Group owner Mir Shakeel ur Rehman had a hand in obstruction of justice. "He tried his best to save a criminal."
He expressed delight that the Supreme Court had sought details of the advertisements the group got from the government. "The prime minister has been buying people like Mir Shakeel with our money, tax-payers money."
He asked Mir Shakeel if this was "freedom of expression that you use your media house to make money and protect a criminal."
Imran said the media tycoon lives in Emirates Hill, drives a Rolls Royce and has a separate residence in London. "He then comes to Pakistan to set the narrative. He defends the Godfather of corruption. He writes bad against us to shut our mouths. Is this what a media owner is expected to do?"
He greeted the other media groups for playing their part in democracy. "I appreciate their efforts. I salute the anchors and working journalists who waged Jihad and stood up despite tremendous pressure. The nation will never forget you and I will never forget you."