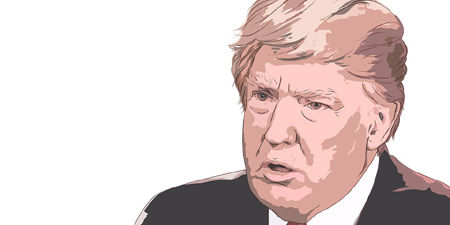 JournalismPakistan.com July 03, 2017


BRUSSELS - The International Federation of Journalists (IFJ) has strongly condemned the attacks of US President Donald Trump against CNN, following a video the he published on Twitter.
The video shows President Trump beating up a person with the CNN logo on his face.
The 28-second video was originally shot in 2007 during a World Wrestling Entertainment (WWE) broadcast. On Sunday morning, Trump tweeted a manipulated version with the CNN logo on the face of the beaten man, WWE founder Vince McMahon, using the hashtags #FraudNewsCNN and #FNN as Trump accuses the TV channel of "fake news".
Several media groups and even some Republican politicians stood up publicly against the use of such content against a media outlet. "It's not just anti-CNN. It's anti-freedom of the press," CNN political analyst Carl Bernstein said on Sunday, while Jeb Bush, former candidate to the Republican primary elections, described the tweet as "inappropriate, undignified and unpresidential". "He is going to get someone killed in the media," claimed Ana Navarro, a Republican critical of the President and a commentator on both CNN and ABC media.
In a statement, CNN called it a "sad day when the President of the United States encourages violence against reporters", and added that "We will keep doing our jobs. He should start doing his."
The IFJ joined US journalists in condemning the video as an attack on press freedom.
"We join the international criticism of such violent and bullying behavior which demeans the office of the President of the United States of America," said IFJ President, Philippe Leruth. "We remind Mr. Trump that freedom of the press is one of the cornerstones of the First Amendment of the US Constitution and that it is his duty as the President to fully respect and enforce it."
Previously this week, the IFJ also condemned Trump for inappropriate behavior against an Irish female journalist on 27 June in the Oval Office. The US President was then talking on the phone with his Irish counterpart, Mr. Varadkar, when he asked the female journalist Caitriona Perry to approach before telling the Irish President: "She has a nice smile on her face so I bet she treats you well."
Mr Leruth said: "Such an objectification of our female colleagues is completely shameful. Both male and female journalists´ work is not to treat politicians right or wrong but simply to seek and report the truth and keep citizens informed as democracy´s watchdogs." – IFJ media release