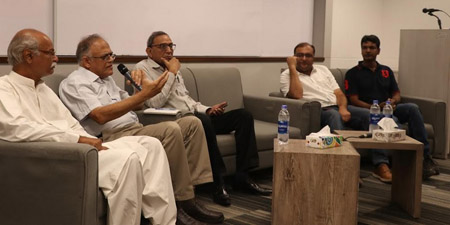 JournalismPakistan.com July 19, 2019


KARACHI — Friends and colleagues gathered at the Centre for Excellence in Journalism on Friday to remember Idrees Bakhtiar and Anil Datta, veteran journalists who passed away recently.
The News' reporter Zia Ur Rehman described his colleague Mr. Datta as a thorough gentleman. He had command over writing, with a brilliant taste in music and art, he said adding that "the newsroom misses him a lot."
Also speaking at the condolence reference, Afia Salam said the journalist fraternity had lost two great role models in Mr. Bakhtiar and Mr. Datta. "While we mourn their loss, we can best celebrate their life by emulating the high standards of quality journalism conducted in an unbiased manner with great personal integrity," she said.
Many people had come to pay tribute to their former colleagues.
Former Information Minister Javed Jabbar said: "Despite being different both Anil and Idrees were very similar, the fairness of mind and morality were the personality attributes of both personalities."
Veteran journalist Qaiser Mehmood described Mr. Bakhtiar as a member of his family. "I was taught by Idrees how to write; the sad part is that all the knowledge Idrees had has gone with him."
He added Mr. Bakhtiar was a pioneer of investigative journalism.
Secretary Karachi Press Club Arman Sabir was also present at the condolence reference. "Idrees was my mentor, and I have learned many things from him," he said. He described Mr. Datta as the highlight of the press club.
President of Karachi Press Club Imtiaz Faran said: "Anil and Idrees were legends of journalism, and no one can replace the work they have done for journalism." - A CEJ media release