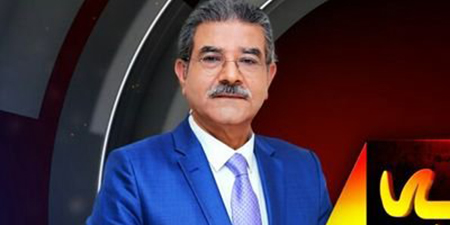 JournalismPakistan.com May 08, 2022


ISLAMABAD—The Federal Investigation Agency (FIA) has booked BOL News anchor Sami Ibrahim under contentious sections of the notorious Prevention of Electronic Crimes Act (PECA), 2016 law.
According to the notice dated May 7, shared by the anchor on social media, FIA has summoned him under Section 20, which criminalized defamation, declaring that his video "spread false and frivolous allegations on senior government functionaries."
"You have built a narrative with an ill-intent to cause intimidation, fear, panic, insecurity and unrest between government officials/personnel of armed forces and general public," it read.
Section 20 of the law increased the prison term for social media users convicted of disseminating "fake news" from two to five years. It also made it mandatory for courts to decide such cases within six months.
However, Ibraham took to Twitter, saying, "My lawyer Raja Aamir Abbas has informed the agency that I'm out of the country and will take necessary legal action after May 14."
Ibraham has been critical of the government and the military establishment, having raised his voice against the "imposition" of the government of Pakistan Democratic Movement (PDM) component parties on Pakistan.
In a recent video, he had criticized the top military brass for its purported meddling in civilian affairs and aiding the process of the no-confidence vote against ousted Prime Minister Imran Khan.
Journalist unions condemned the summon, including the Pakistan Federal Union of Journalists (PFUJ). They wondered how the agency could invoke a section struck down by the Islamabad High Court (IHC).
On April 9, the high court declared the Prevention of Elect­ronic Crimes (Amendment) Ordinance unconstitutional and scrapped Section 20 of the original law introduced by the PML-N government in 2016.
Before Ibraham's case, FIA also filed a petition in the Supreme Court to challenge the IHC order, which declared the amended PECA Section 20 as 'unconstitutional. ' However, Federal Minister for Information & Broadcasting Marriyum Aurangzeb, in a prompt response, announced withdrawing the petition filed by FIA.
Photo: Twitter (@samiabrahim)
From JournalismPakistan.com archives:
Sami Ibrahim appointed president and managing director of BOL News
Court declares PECA 'unconstitutional'