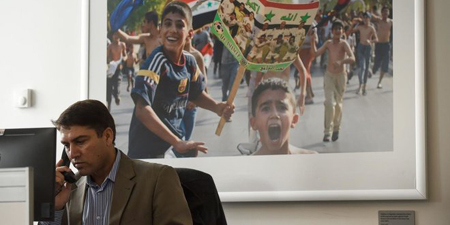 JournalismPakistan.com January 26, 2018


PRAGUE - With its Pakistan bureau shut by authorities last week, Radio Free Europe/Radio Liberty's Pashto-language station is broadcasting from its headquarters in a distant Prague, waiting for "the dust to settle," according to its senior editor.
The Islamabad office of Radio Mashaal, or Torch in Pashto, targets some 10 million people in areas along Pakistan's border with Afghanistan. It was closed for airing content "against the interest of Pakistan".
The interior ministry said the Inter-Services Intelligence (ISI) - Pakistan's top spy agency - had also found its programs to be "in line with (a) hostile intelligence agency's agenda".
It is the latest example of the pressures Pakistani journalists face from security forces.
A series of recent high profile abductions and attacks on journalists and activists, including the attempted kidnapping of an award-winning France 24 journalist, have raised fears that the shadowy military establishment is acting with impunity to shrink the space for dissent and free speech.
The official confirmation of ISI's involvement in shuttering Radio Mashaal is a rare acknowledgment of its role in such incidents, in which security forces usually deny involvement.
"We read the charges through social media. We were not informed by any government agent," Daud Khattak, Radio Mashaal's Prague-based senior editor, told AFP on Thursday.
Minutes after the news came through WhatsApp, "police teams arrived at our office in Islamabad and asked our employees to pack up and close the office.
"Later on when I was watching some Pakistani TV channels, they were airing news that we are working for the CIA."
Funded by the US Congress, RFE/RL was founded in 1950 to beam programs into the communist bloc.
It currently broadcasts in 25 languages and aims to "serve as a 'surrogate' free press in 23 countries where the free flow of information is banned or not fully developed."
Mashaal has over 1.6 million Facebook fans and scored 81 million video views on Facebook and 10 million views on YouTube in 2017.
Its closure coincides with heightened tensions between Islamabad and Washington.
President Donald Trump recently froze up to $1.9 billion (1.5 billion euros) in funding to Pakistan in a move designed to force Islamabad to halt its alleged support for the Afghan Taliban and other Islamist groups.
Pakistan has long denied the allegation and accused Washington of dismissing its sacrifices in the war against extremism.
Founded in 2010, Radio Mashaal covers the so-called tribal areas, a sensitive region on both sides of the border with a significant Taliban presence.
The region has been the hardest hit by unrest since 2007 and has seen several large-scale operations by Pakistan's military against extremist groups. Any media reports criticizing the army invite a reaction from authorities.
"Covering this (region) it's like walking on a very tight rope. But we did it all the time," Khattak told AFP.
The interior ministry notification posted on the radio's website accused Mashaal of portraying Pakistan as a "failed state" and "a hub of terrorism and safe haven for different militant groups".
It also alleged that the station was "distorting facts (to) incite the target population against the state and its institutions", referring to ethnic Pashtuns.
But Khattak, who has 20 years of journalistic experience, said: "We are covering the issues of the tribal areas, from clean drinking water to health facilities to destroyed roads to destroyed schools.
"We are taking the demands of the villages and we are conveying the same demands to the parliamentarians sitting in Islamabad."
"We are creating political awareness among the people about their rights. We didn't do anything bad," added Khattak.
He said Mashaal reporters had been investigated by intelligence agencies over the past two years.
Support has poured in for Radio Mashaal as Reporters Without Borders, the Committee to Protect Journalists and a host of Pakistani politicians have voiced concern.
"Hundreds of thousands of Pashtuns listen to Radio Mashaal, which provides information to the people," said Pakistani Senator Usman Kakar, secretary general of the Pakhtunkhwa Milli Awami Party.
"Radio Mashaal is highlighting problems of those people, conducting interviews with them," he said.
While Mashaal's Islamabad bureau chief, four reporters, and two dozen stringers are taking a breather, the nine-hours-a-day broadcasts continue from Prague.
Khattak said he hopes "that when the dust has settled, things will return to normal."
"But I'm not sure we'll be able to reopen the office." - AFP/AFP Photo: Daud Khattak, Prague-based senior editor of Radio Mashaal.