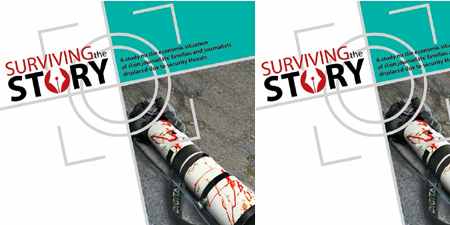 JournalismPakistan.com January 10, 2018


ISLAMABAD – Dawn on Wednesday commented editorially on 'Surviving the Story' a field study report and documentary on the economic plight of slain journalists' families and displaced reporters.
The project was undertaken by JournalismPakistan.com and Communications Research Strategies (CRS) that focused on the situation in Khyber Pakhtunkhwa and FATA.
"In the backdrop of the oft highlighted occupational hazards of being a journalist in Pakistan, is a story that receives little attention," Dawn commented. "Now a documentary and field study report under the joint title Surviving the Story, which was launched at the National Press Club in Islamabad on Monday, has shined that much-needed light."
Dawn said that sometimes the death of journalists due to work-related causes elicits an outpouring of public sympathy that can result in at least short-term financial assistance for their families, but the travails of displaced journalists go entirely under the radar.
The paper said: "…the financial repercussions if journalists are killed or displaced, remains an issue that has not been adequately addressed by the media industry. It is only reasonable and humane that those who risk their lives to carry out a task that comprises a fundamental right for citizens — the right to information — should know that were a misfortune to befall them, their families will not be left in dire financial straits."