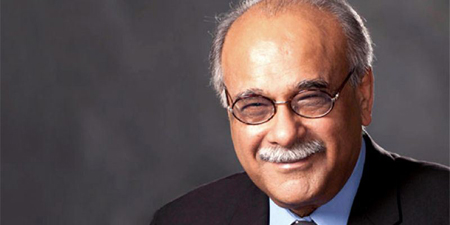 JournalismPakistan.com February 03, 2017 Daud Malik



ISLAMABAD - The Friday Times (TFT) says a vicious hate campaign has been unleashed at the behest of a television channel and its lead anchor, against its editor-in-chief and Geo News analyst Najam Sethi.
This complaint has been made in the gossip section of the weekly newspaper – Such Gup. In the column, the paper does not directly name the persons but drops broad hints to let the readers know who's who. Imran Khan is often referred to as The Great Khan and the Prime Minister as The Man of Steel and Pakistan People's Party is the Big Ben's party. Normally the tone of Such Gup is light. But on Friday it was serious, worrying about efforts to repress freedom of speech.
Though Such Gup did not name the television channel and its anchor, reference to BOL News and Amir Liaquat Hussain is obvious.
The weekly said the main grouse of these two (the TV channel and lead anchor) is with Geo and its owners, for various reasons, to do with competition and the market. "Both the channel and the anchor have been nudged to attack all of Geo's leading anchors on various trumped up charges."
But the weekly's worry is that the focus of the "attack seems to have shifted to Mr. Sethi because the Powers-That-Be are unhappy with his critique of their policies". It said banners have appeared against Sethi for being "anti-national" and a sedition case filed in a Karachi anti-terrorist court. Powers-That-Be is another euphemism about the military establishment.
The paper said an attempt to lodge a blasphemy complaint has been rebuffed by the Sindh High Court but this is unlikely to deter those who are inciting people to violence. "Rallies have taken place in various towns and cities, and more are planned. This is nothing short of incitement to violence, and a new high in repression of free speech."