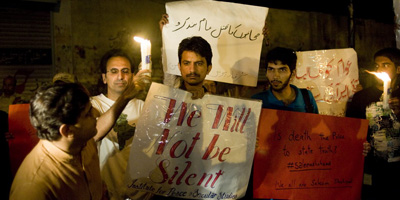 JournalismPakistan.com May 29, 2012
ISLAMABAD: A year on from the abduction and assassination of reporter Saleem Shahzad, Pakistan must take urgent steps to bring his killers to justice and properly investigate claims of intimidation against journalists, Amnesty International says.

"Shahzad's killing last year highlighted the perils faced by journalists in Pakistan," said Polly Truscott, South Asia director at Amnesty International.

"Pakistan remains one of the most dangerous countries for media workers with at least three journalists killed in the past five months. Last year at least nine lost their lives."

Just two days prior to his abduction in Islamabad on May 29, 2011, Shahzad published an article about an attack at a Pakistan Naval base.

He alleged Navy personnel sympathetic to al-Qaeda had facilitated the attack. On May 31, his body was found several kilometres outside Islamabad showing signs of torture.

In October 2010, Shahzad had told colleagues that in a meeting with Inter-Services Intelligence agency's (ISI) media wing, he felt he had been threatened, because of his reporting on al-Qaeda infiltration into Pakistan's armed forces.

Read more here: http://www.amnesty.org/en/news/pakistan-still-no-justice-year-journalist-s-killing-2012-05-29