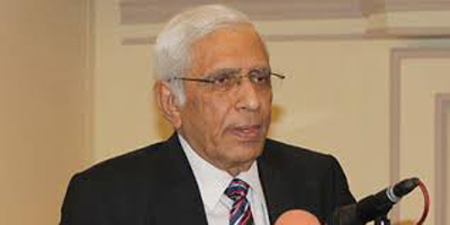 JournalismPakistan.com February 19, 2017


ISLAMABAD – Media outlets should properly follow the code of ethics to keep intact their integrity as well as credibility and ensure protection of journalists' rights who work for a better image of their organizations.
These views were expressed by speakers here Saturday at the National Press Club during an interactive discussion on 'Code of Ethics for Media in Pakistan'.
A documentary was also screened having interviews of well-known journalists and families of those journalists who became victims of terrorism incidents.
Veteran journalist Muhammad Ziauddin urged the journalists to follow the code of ethics keeping in view their integrity and credibility, adding that Pakistani journalists face severe challenges including threats to their lives.
He said they face financial problems and were exploited by media organizations.
Ziauddin urged the journalistic bodies to play their role in protecting the rights of working journalists and ensure implementation of code of ethics for media in Pakistan.
He was of the view that policy of granting licenses to run media houses and cross-media ownership should be revisited and monopoly of few media organizations should be curtailed.
Ziauddin said that the PEMRA is a regulatory body which should be out of government control and should work with transparency for the promotion of healthy journalism.
Rawalpindi-Islamabad Union of Journalist (RIUJ) President Afzal Butt said that efforts are being made to ensure protection of journalists' rights, adding that a bill is being drafted for the protection of journalists.
In the proposed legislation, it has been suggested that job security as well as safety of journalists be ensured.
Shakeel Anjum, National Press Club President said that all journalist bodies should get together to resolve the issues of working journalists. - APP