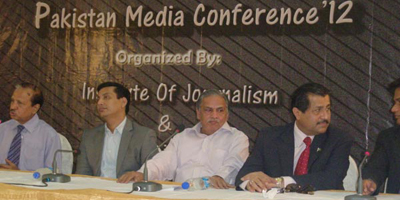 JournalismPakistan.com June 03, 2012 Samina Memon & Yasira Habib

KARACHI: As journalists we should be happy that our profession is being propagated, promoted and strengthened. Logically, this would mean that more and better journalists will emerge in the future which would also lead us to believe that journalism in Pakistan will not be found wanting when benchmarked against recognized media powerhouses.

Therefore, the fact that yet another source of learning journalism is now taking concrete steps to establish itself should be greeted with enthusiasm and supported too. It should be a relief to know that students of journalism will no longer have to rely solely on universities, newspapers and television channels to learn their skills for now they also have the option of doing so at the Institute of Journalism which began functioning in Karachi in November 2011.

The Institute offers courses in news anchoring, current affairs anchoring, article & feature writing, social media marketing and analysis of financial statements.

All very encouraging of course when viewed from afar and if one does not happen to visit the Institute's website: http://iojpakistan.wordpress.com/ which is not informative at all. Several buttons do not work or have no content.

The slogan of the Institute itself is incorrect. What does 'See the history making' mean? Should it not read, 'See history in the making'?

A video posted on the site begins by saying: "Dont (Don't) read history, see the history making – be a journalist."

The first sentence of text introducing the institute gets off to an erroneous start too. It reads: "Institute of Journalism is committed for building up the journalistic skills within oneself." It should read: The Institute of Journalism is committed to building up the journalistic skills.

There is more. For example, in its Objectives segment the site proclaims: "To provide platform to enter into the field of journalism with proper and relevant education." It should read: To provide a platform to enter ('into' deleted) the field of journalism with proper and relevant education.

And in the Opportunities segment one is told: "To meet the media professionals and journalist during the course duration." It should read: To meet ('the' deleted) media professionals and journalist(s) during the course duration.

It would be easy to carry on forever, but really… is this where students are going to learn the skills of journalism, story telling and better writing?

What is really disturbing is that the Institute held a media conference last week which according to the Cybo Tainment was a Gregarious event from IOJ. Gregarious?!!!

This coming from an institute that is partnered by the sinking newspaper Pakistan Today, the Youth Affairs Department of the Government of Sindh, Apna Karachi FM 107, Brandz Pakistan and has a 'Blog partner' in Journalist Pakistan.tk.

The Institute has now been given the responsibility of organizing and hosting the conference annually.

According to their online information the conference which concluded last Friday was supposed to bring the viewers, readers, critques, media professionals, (and) journalists on one platform and (the) word will fall out among them!!

According to the website the conference covered Challenges Faced by (the) Media Industry of Pakistan, - Media Ethics, A Youth training on "Leadership", Media Glamor and Media and Politics.

But in reality the conference focused on: Media & Politicians, Media and Anchor Persons (Most of us journalists were not aware until this revelation that anchor persons are not media. No wonder then our anchors and show hosts don't behave like journalists), Leadership in Media and Media & Public Relations.

We are informed that: In the first session of this conference which is called "Media and Politicians" Mr Faisal Sabzwari, Mr Mujahid Barelvi, Mr Agha Massod and Mr Mirza Ikhtiar Baig expressed their views on the current behavior (of) Pakistan private channels.

In the second session of this conference which was named "Media and Anchor Persons", Mr Ahmed Shah discussed the current attitude of the anchor persons of private television channels and his speech was one of the best speech(es) of this (the) conference.

We can carry on infinitum, but we won't.

We wanted to make a point: If this is the kind of journalism one should expect from the Institute, the purpose of its establishment is already lost. What is worse, most of the participants at the conference were students who paid up to Rs1200 to attend in the hope of learning something valuable. All they got was talk.