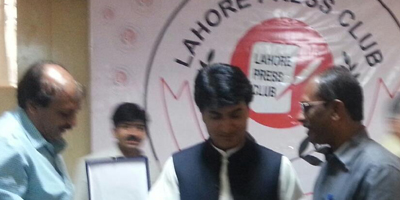 JournalismPakistan.com March 22, 2013
LAHORE: District Coordination Officer, Lahore, Noorul Amin Mengal visited the Lahore Press Club on Thursday and talked about acquisition of land for F Block.
In the picture he is seen standing with President Lahore Press Club Arshad Ansari and Secretary Zulfiqar Ali Mehto after signing the section 4 notification regarding public announcement and identification of land required for developing F Block.
On the other hand, F block-affected journalists want the Press club to "do more" and get a notice issued under Section 17 (4) of the land acquisition act which calls for urgent possession of land required for public purpose. Their objection is that the executive body is just doing a photo session, so that it can enroll new members and win votes of angry F Block members.
Asif Butt, Member, LPC Governing body and organizer of the hunger strike camp told JournalismPakistan.com that the club's executive body has vowed to get land acquisition process completed within 45 days. "They want to hold fresh elections and enroll new members in the meanwhile but we have made an offer. We are ready to give them 60 days and an extension in their tenure through a resolution in a general body meeting. They can hold elections when these promises are fulfilled."