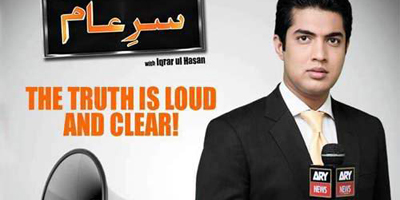 JournalismPakistan.com April 29, 2016


ISLAMABAD - Iqrarul Hassan, popular program host on ARY Television, was arrested Friday after exposing poor security at the Sindh Assembly in a sting operation.
Hassan, along with a crew member, was easily able to carry a pistol without being checked by the security staff. It was during the session when Hassan asked his colleague to take out the pistol which was then shown to Speaker Agha Siraj Durrani during the session.
The incident prompted a heated debate in the House. The journalist was arrested by the police.
ARY News reported the Sindh Home Minister Sohail Anwar Siyal as saying an inquiry will be conducted into the matter. He also ordered arrest of all those who conducted the sting operation in the assembly.
The minister also suspended security in-charge of the Sindh Assembly and constituted a committee headed by DIG South to investigate.
Meanwhile, the incident led to calls for immediate release of Hassan, who gained prominence for exposing wrong-doing in the society through his program Sar-e-Aam.
Television anchors and politicians backed Hassan and his team and demanded they be set free.
Hundreds of people gathered outside Arambagh Police Station where Hassan was being held and chanted slogans in his favor and pressing for his release.
Media watchdog Reporters Without Borders (RSF), quoted by ARY, said it would take up the issue with the government.
"Hassan acted in good faith and identified security loopholes....these were the security flaws due to which incidents like 9/11 occurred," RSF said.