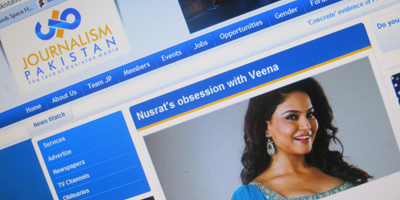 JournalismPakistan.com October 23, 2012 Z B Saigol

KARACHI: I gave up on Pakistan's media and what they stand for long ago. Frankly their unprofessional attitude and lack of ethics sickens me. Therefore, it was with whopping degree of skepticism that I considered JournalismPakistan.com when it was first referred to me by a former colleague, a decent sort of chap who for a short while worked at CNBC and whom I shall refer to as MS.

"It is not your run of the mill website on media," he had said, "It's run by Stephen Manuel and Imran Naeem Ahmad."

"Who the hell are they?" I asked.

MS was miffed if not downright offended.

"Okay, I'll have a look at it," I said and promptly forgot.

I met the fellow a year later and one of the first questions he asked me was, "So what is your opinion of JP?"

"Is that HP's younger brother or older?" I asked in my typical style.

"Saigol Sahib," he said frustrated, "Aaap to kissi aur ko thora sa bhi credit dainay kay leeyay teyar hi nahi." He flipped open his laptop and had the website open in a moment. "Have a look," he pleaded. I capitulated reluctantly.

A few minutes became half an hour. I looked up and saw MS had an "I told you so" smile playing at the corner of his lips. "Don't look so smug," I said vindictively, "It has a couple of mistakes in it."

He came over. "Here...." I pointed out where two words had not been separated, "and here..." I said indicating where the word 'their' had been spelled as 'there'.

"It is human to err..." he said philosophically and then kept quiet.

I waited a moment before I said: "Okay it's the best media website I have come across... period. I don't mean just in Pakistan, but anywhere. I'm impressed… Who are these guys? They are doing a good job."
MS smiled happily. "Steve used to be my boss in CNBC," he said, "Real journalist... and Imran is his friend and colleague, a career journalist based in Islamabad. Both are senior journalists with international experience.

"I like what they are doing. They seem to have it covered entirely....the gamut of the journalism scene. Features, breaking news, information, services... so who funds them?"

"Self-financed," MS said.

"That means passion is the engine making the machine run here," I murmured and he nodded. "Is there any way you can introduce me to them?" MS nodded again.

It's been over a year now since I have been writing for JournalismPakistan.com and I can tell you I have enjoyed being a contributor. Both Steve and Imran have informed me that I go overboard sometimes, but that's just me. I have been told my stories or observations always evict criticism. But that's me again, I guess. I'm still to meet Imran and I'll do that when I go to Islamabad or when he comes here. With Steve it's mostly Facebook. But I know both of them well or I think I do.

I wish Steve, Imran and JournalismPakistan.com the very best on the third birthday of the website. May you have many more.

And JP...thanks for providing me an avenue where I can really vent my frustration and say what I want to. Media in Pakistan would be poorer without you. Thanks.