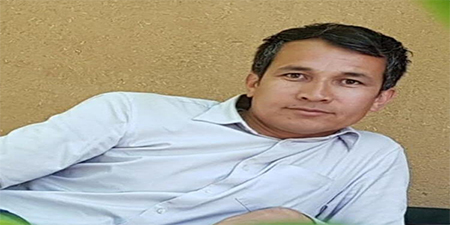 JournalismPakistan.com August 28, 2021


Afghan journalist Ali Reza Ahmadi (pictured) who was reporting from the chaotic scenes at Kabul airport was among those killed in the deadly bombing outside the airport on August 26.
Another journalist Juhal Hamidi also died the same day at the airport.
The International Federation of Journalists (IFJ) and its Afghanistan affiliates, the Afghan Independent Journalists' Association (AIJA), and Afghanistan's National Journalists Union (ANJU) continue to draw attention to the plight of the country's media and the future for freedom of expression.
Ali Reza Ahmadi, a reporter for the Raha news agency was killed in the Kabul airport suicide bombing on August 26, which also claimed the lives of 170 people, including 13 US service members.
The Islamic State of Khorasan Province (ISKP) claimed responsibility for the bombing. Video shot by Afghan journalists showed dozens of bodies strewn around a canal on the edge of the airport.
The AIJA reported that journalist Juhal Hamidi, a presenter of the Jahan Television, was among those killed though it is not clear if he was reporting or also among those trying to evacuate.
Due to the increased panic and desperation amongst Afghanistan's media community, as the deadline looms for the US evacuation on August 31, thousands of Afghani media workers have pleaded for evacuation from the country, fearing the repercussions of their reporting.
The IFJ and its affiliates have logged more than 2,000 requests for assistance from media workers trying to flee the country.
IFJ General Secretary, Anthony Bellanger, said: "The International Federation of Journalists (IFJ) expresses condolence to the family members of journalists Ali Reza Ahmadi and Zuhal Hamidi. The IFJ expresses grave concern to the security of both local and international journalists in Afghanistan at this critical juncture and is coordinating with partners and governments to do all it can to evacuate journalists most at risk."