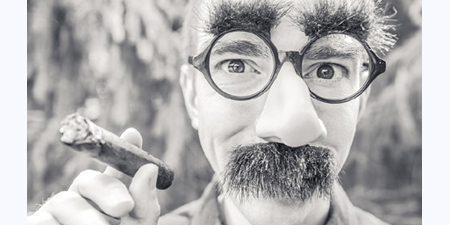 JournalismPakistan.com November 01, 2019 The Communicator



The last time I wrote for JournalismPakistan.com was more than five and a half years ago. At the time I was told, in no uncertain terms, that I could not write for the website anymore. Both editors — Imran Naeem Ahmad and Steve Manuel — refused to entertain my writing, saying I was becoming one-dimensional and targeting specific individuals without proof or reason.

They said I was being vindictive and petty, and that main target of my writing was a popular and 'respected member of the media.' I begged to differ on both accounts. I argued I was not targeting anybody, and the person they thought I was after was neither popular nor respected. I said he was a fraud, a wolf disguised as a sheep and, without doubt, a raving psychopath. This man had admitted to many people that he was unstable, on medication, and had crazy, murderous thoughts.

And yet this person was allowed to head a television channel(s?), represent certain prestigious international organizations in Pakistan as the country head and even organized fake media development events. How had nobody pointed out that every move of his was fake and calculated?

I told them not to be taken in by his wily charm offensive.

But both Imran and Steve put me down. They said I should find some new avenue for my "frustrations" and that they would not print a single word about this individual until I was able to present some plausible/solid proof. Imran gave the impression he couldn't care less. Steve accused me of ruining a years-old friendship and said the damage I had done was not fixable.

I was insulted and hurt and told them both to go to hell. I told them I was doing them a favor by presenting another side of a story, especially since JP professed to be a transparent media outlet. "You have only one side of the story, and it is a side I can longer put up with or print," Steve rudely told to me on the phone.

I told them to go do themselves.

For a few months I did some freelancing and even landed a job with a well-known publishing house in Karachi. I hoped that the JP editors would have a change of heart and reconsider their decision. They never even made a courtesy phone call. So much for years of knowing them.

After three months I called Imran and asked him if I could do a story about fake journalists and media junkies who were attending media conferences and seminars like if it was some cult and that these people were party to the money being made by the fake organizers of these seminars etc.

Imran said it sounded like a good story. "I only hope it has nothing to do with you know who," he reminded me. I promised him it did not. He said he would discuss the story with Steve and get back to me. Two days later, he said he had been able to convince Steve.

So I sent the story, and I thought it was a perfect one. I put my heart and soul into it because it accurately described the monkey business that was going on at these so-called seminars and conferences that were supposedly teaching journalists to be better, more productive, innovative, investigative, etc. I particularly highlighted the point that there were certain individuals that were wasting their organization's finances by finding a way to get into these gatherings as one barely ever saw any contribution from them in the mainstream media.

My questions were simple; who were these people and what did they do?

I was not prepared for the storm that was to follow.

I got an angry phone call from Steve. "So you managed to ignore your favorite victim, and now you've targeted this well-known, highly respected lady journalist and media event organizer," he fumed. He went on to tell me that he had confirmed with several people that she was a genuine person who did not have any ulterior motives for what she did. "She's a very nice person," he said, almost like he knew her.

Steve said she had emailed him. He said he was embarrassed that she had to do so. He also said I was not allowed to write for the website anymore. Period. Lastly, he said he would sue me.

Well, I don't know how that went. Both Steve and Imran refused to entertain my calls or my emails. The years flicked by.

Then recently I bumped into one of them in Washington. Throughout a delicious lunch, we were able to iron out our differences. A delightful dessert later, I picked up the courage to ask, "Can I write for you guys again."

There was a long pause. "Only if you promise not to target you know who and write an apology letter to the lady you dragged through the mud," he said.

Seriously?

Ah well, what the heck. I've decided to let old dogs lie. So, let me lay it out for you. Firstly I promise not to target 'you know who.' However, if I learn something about him that does not sit straight, I will pass on the information to Steve and Imran, and they can investigate it themselves. Just because I'm not going to write about 'you' does not mean you are in the clear. Be aware. I've got my eyes on you.

Next. "Media Lady I did wrong," please understand I was younger, eager, and wanted to make a name for myself. I slipped up. Sorry. No hard feelings, I hope.

Thirdly, a leopard never changes its spots. I now have my attention squarely focussed on a media website that is organizing seminars, development courses, etc. The same old game with a new twist and new management. This one is headed by a former talk show host and his wife and is financed by a well-known American media organization through the US State Department.

Hint: Their website was unreachable for over three months. So much for American money.

Hint #2. What goes around comes around...360 degrees. Karma is a bitch.

And just in case, you think Steve and Imran will be coerced to hoof me out again. Don't bet on it. For better or worse, I'm back.