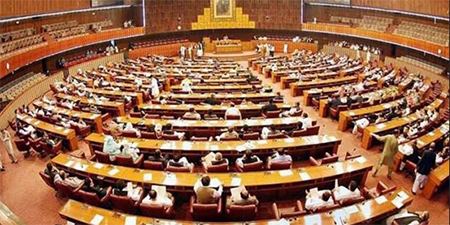 JournalismPakistan.com November 19, 2021


ISLAMABAD—The Senate Friday passed the Protection of Journalists and Media Professionals Bill 2021 and three other bills amid the opposition'sopposition's protests.
Minister for Human Rights Dr. Shireen Mazari presented the media protection bill, which the National Assembly has already passed.
However, Senators from the opposition parties called sending the bills introduced to the relevant committees, including the bill on journalists'journalists' protection.
The other three bills were the Higher Education Commission (Second Amendment) Bill 2021, the National Accountability Amendment Bill 2021, and the Higher Education Commission (Second Amendment) Bill 2021.
But Dr. Mazari argued for voting on the bill, saying it took a year to draft it. The Senate passed the four bills after the six-member independent senators'senators' group, led by Senator Dilawar Khan, supported the government.
On the passage of the bill, Dr. Mazari thanked journalists and media professionals in a tweet. "I want to thank all the journalists and media professionals for their valuable inputs and support, and the bill reflects these inputs. The bill was drafted with consensus."
In another tweet, she narrated the two years of work to prepare the bill. "Today after 2 yr struggle to provide a comprehensive journalist & media professionals protection law, drafted in consultation with journalists bodies, was finally realised thru parliament. After NA today Senate passed bill by majority vote. Now President will sign bill into law."
On the other hand, Pakistan Peoples Party Senator Sherry Rehman tried to clarify that she did not oppose the bill, but the proper procedure was not followed. ""Because friends in the media are asking: we did NOT oppose the Journalist Protection Bill, but were asking for it to go to Standing Committee, same as we wanted for all bills like HEC. After that supplementary agenda was produced when members had left for juma prayers.""
In a tweet in Urdu, Minister for Information Fawad Chaudhry congratulated the journalists on the bill's passage. He maintained that the legislation would give working journalists rights available to the journalists in the developed world. He also termed the bill evidence of the PTI government's commitment to press freedom.