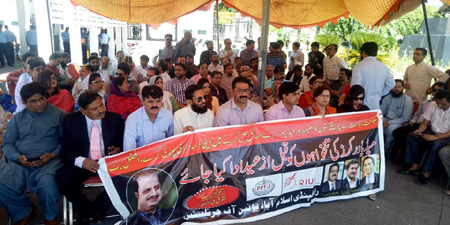 JournalismPakistan.com May 28, 2019


ISLAMABAD - Deputy Speaker National Assembly Qasim Suri on Tuesday referred the issue of non-payment of salaries to journalists to the relevant standing committee with directions to submit a report on it.
The Rawalpindi-Islamabad Union of Journalists (RIUJ) staged a protest outside the Parliament to press for the payment of outstanding wages to media workers before Eid.
The issue came under discussion in the National Assembly through a point of order raised by PTI MNA Muhammad Sana Ullah Khan Masti Khel. He informed the house about the journalists' protest.
He said that the right of journalists should be protected who had to work in an adverse situation for their livelihood.
After the issue was highlighted in the house, the deputy speaker said that it was being forwarded to the relevant standing committee as per Rule 199 of the Rules of Procedure and Conduct of Business in the National Assembly. He said that 30 days are required for submission of a report on any matter referred to the standing committee.
The Rule 199 of the Rules of Procedure and Conduct of Business in National Assembly 2007 says: "Except as otherwise provided in these rules, the Assembly or the Speaker may remit to the Standing Committee any subject or matter with which it is concerned and the Standing Committee shall study such subject or matter with a view to suggest legislation or making recommendations to the Assembly."
The chair also asked MNA Muhammad Sana Ullah Khan Masti Khel and minister of state for parliamentary affairs to visit the camp of protesting journalists. They, along with other MNAs, visited them and assured their full support to resolve their issue.
Briefing the house after talks with media persons, State Minister for Parliamentary Affairs Ali Muhammad Khan said the government stood with the media workers and would do its best to resolve the issue.
The minister said that the government would stop payments to media houses if they did not pay dues to their workers. He said that issue would be taken up with the special assistant to the prime minister on information and its solution ensured.
Later, the chair also directed to summon officials of electronic media regulator PEMRA in the meeting of the standing committee so that issue could be effectively resolved in their presence.
PML-N parliamentary leader Khawaja Muhammad Asif and MQMP MNA Syed Amin ul Haque also spoke on the issue and asked the government to take practical steps to resolve this matter. - APP/Photo courtesy Aamir Sajjad Syed (RIUJ)