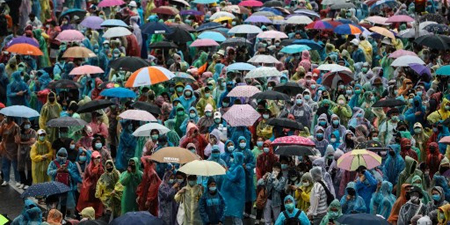 JournalismPakistan.com October 20, 2020


Police have arrested Prachatai journalist Kitti Pantapak as he recorded live coverage of the police crackdown on protestors in Bangkok on October 16. The International Federation of Journalists (IFJ) denounces the Thai government's violation of journalist safety and press censorship.
Pantapak was broadcasting live coverage of the nationwide protests against Thailand's recent emergency decree on Facebook, when he was arrested outside the Mahboonkrong Center, a large shopping precinct in Bangkok. He was released on the afternoon of October 17, after paying a 300 baht fine (USD10) for disobeying an official order under Section 368 of the Criminal Code.
Footage reveals Pantapak spoke to police officers to arrange a suitable place to stand and cover the protests, however, police then approached him and seized his camera and mobile phone. He was wearing an official Thai Journalists Association press armband to distinguish himself from protestors and identify his media affiliation. Pantapak works as a reporter for Prachatai, an independent non-profit online news organization in Thailand, focusing on human rights, social movements, and non-government organizations.
The Thai government's emergency decree, issued on October 14, is an attempt to combat the ongoing student-led protests against the nation's monarchy and government. The decree prohibits the gathering of groups larger than five and restricts the broadcasting or publishing of any news of information with the potential to provoke public fear.
Since the arrest, Telecom regulators have suspended four news outlets, including Prachatai and a student activist Facebook page, ordering them to delete content and cease live broadcasting of protests across Thailand. The National Broadcasting and Telecommunications Commission order said the platforms presented "misleading information" affecting "national stability and order."
The IFJ said: "The introduction of this emergency decree continues to result in an unjust restriction of press freedom and hazardous conditions for journalists on the ground. The IFJ urges the Thai government to guarantee the continuing safety and rights of journalists, allowing impartial coverage of these national protests."—IFJ media release/Photo: AFP