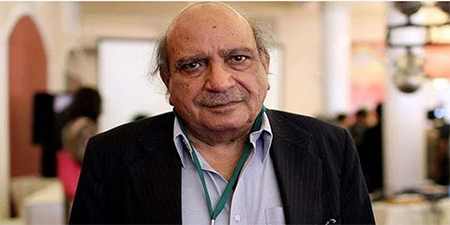 JournalismPakistan.com July 21, 2021


KARACHI—Rich tributes were paid to the late human rights champion and journalist I. A. Rehman at the launch of a book titled 'Remembering I. A. Rehman' at the Arts Council of Pakistan, Dawn reported.
Published by the Institute of Historical and Social Research (IHSR), the 350-page book is a compilation of articles in I.A. Rehman's memory written in three languages—English, Urdu, Sindhi—which has been compiled and edited by Zulfiqar Halepoto.
Senior journalist Mazhar Abbas said that one can feel the big gap when people like I. A. Rehman leave. "He was always on the right side of history and during the fall of Dhaka, people like him ... were seen as traitors," he said.
He remembered how when working on the book about the history of the Pakistan Federal Union of Journalists, Rehman's recalling of its history became very important. "As a journalist, his writing had the clarity of thought that many lack. His writings will always guide me to also keep on the right side of history."
The book's publisher Dr. Syed Jaffar Ahmed of IHSR said that I. A. Rehman was a larger than life personality. "He was a journalist, a writer, and an activist. As a journalist he had started his career with Pakistan Times but when it was nationalized, he stopped writing editorials for it. Later, in the 1970s, he was with Viewpoint. His writings were also published by The Frontier Post, The Muslim, Dawn, Herald, Newsline and The News.
The book's compiler and editor Zulfiqar Halepoto explained that it has three sections for each of the three languages it has been written in. "The articles carry that initial feeling of pain felt at I. A. Rehman's passing as they were all penned very soon after he departed," he said.
Former Chairman HEC Tariq Banuri, Executive Director of the Pakistan Institute of Labor Education Karamat Ali, Prof. Karan Singh, Dr. Kaiser Bengali, Retd Justice Majida Rizvi, and others also paid tributes to him.
Photo courtesy: thenews.com.pk