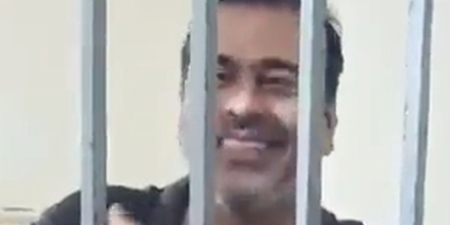 JournalismPakistan.com July 06, 2022


ISLAMABAD—Punjab Police arrested anchorperson and YouTuber Imran Riaz Khan, a vocal critic of the ruling coalition, from Islamabad Toll Plaza late Tuesday.
"Express News anchorperson Imran Riaz Khan was taken into custody near Islamabad Toll Plaza on Tuesday night. Police mobiles surrounded his vehicle and after a short video message, he stepped out of his car and walked toward a police vehicle," Express Tribune tweeted.
In a video of his arrest, which went viral on social media, over a dozen policemen can be seen surrounding his automobile.
In the video, the journalist can also be heard saying he was coming to the federal capital to get bail from the Islamabad High Court (IHC). "I don't think this [arrest] makes any difference. I am requesting all journalists to raise your voice and continue performing your duties," he said, pointing out that the arrest was a contempt of court.
An American journalist on Tuesday claimed, well before the actual arrest occurred, that the Pakistani government detained Khan.
In a tweet posted at 03:03 am (Pakistan Standard Time) on Tuesday, CJ Werleman stated: "Pakistan is descending into authoritarian lawlessness under new government. Today's arrest of prominent journalist Imran Riaz Khan is indicative of that."
Hashtags supporting the detained journalist started trending on Twitter soon after news of his arrest went viral on social media. Former Prime Minister Imran Khan and several other prominent personalities, mainly from PTI, condemned the arrest and demanded the government release the journalist.
Reportedly, Khan was arrested in a case lodged at the Attock police station and was taken to the same district.