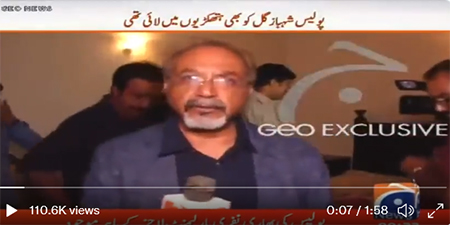 JournalismPakistan.com August 23, 2022


ISLAMABAD— Former Information Minister Fawad Chaudhry has questioned the presence of Geo News reporter Qayyum Siddiqui during the police raid arrested PTI leader Shahbaz Gill's room at the Parliament Lodges on Tuesday.
Fawad asked the chief justice of Islamabad High Court on Twitter under which law Geo TV team was "accompanying police raiding @SHABAZGIL room? Hopefully full bench II not take this as CONTEMPT…"
In the accompanying video, Siddique points to various items recovered from the room. At the clip's start, Qayyum calls the PTI flag "patta" which has angered the party followers.
As an embedded reporter, Qayyum asks the police official about the recovery of things from the room, which includes a revolver, two passports, an I-phone, a satellite phone, and some cards. The Geo report also shows the wardrobe in the room as Gill stands handcuffed.
Other Twitter users hoped the magistrate would ask the investigative officer about the presence of the Geo team during the raid.
However, there were some other channels also reporting from the scene, contrary to the former minister's claim.