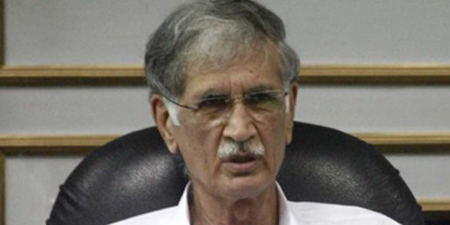 JournalismPakistan.com March 13, 2018


ISLAMABAD - The Pakistan Tehreek-i-Insaf-led government of Khyber Pakhtunkhwa spent around Rs 1.63 billion on media campaigns in the last five years to highlight its performance, a senior official informed the Supreme Court on Monday.
KP Information Secretary Qaisar Alam told a three-member bench, headed by Chief Justice of Pakistan Saqib Nisar, during the hearing of a suo motu case of alleged spending of hefty amounts on advertisements by provincial governments of Punjab, Khyber Pakhtunkhwa, and Sindh to highlight their achievements ahead of elections later this year.
During the hearing, the chief justice asked how many advertisements were issued to print and electronic media organizations by the KP government and how many of them carried the photo of PTI Chairman Imran Khan and Chief Minister Pervez Khattak (pictured).
To this, Alam informed the bench that the provincial government spent Rs 1.63 billion on advertisements during the last five years, while Rs 204.7 million were spent for the purpose during the last three months, DawnNews reported.
The chief justice then directed the secretary to submit details of KP government's advertisement expenditure of the last year, and bring with him copies of ads which carried photos of Khan and Khattak.
The CJP also asked whether Punjab Chief Minister Shahbaz Sharif had deposited Rs5.5 million to the national exchequer that the apex court had directed him to pay last week for spending on a media campaign.
The additional advocate general Punjab then submitted a copy of the cheque of Rs5.5 million that was paid by Sharif.
The amount was reimbursed from "party funds," the advocate told the court.
Stressing that the funds spent on political advertisement campaigns belonged to the treasury, Justice Nisar said: "We have nothing against the advertisements, but they should not be for personal publicity."
He also said that the photographs of late PPP leader Benazir Bhutto, Sindh Chief Minister Murad Ali Shah, and PPP Chairman Bilawal Bhutto Zardari also should not appear in government advertisements.
The money spent on government advertisements belonged to the people of Pakistan, the CJP said, adding that the court wants to end the wastage of public funds.
Justice Nisar stressed that the court was not ending the flow of advertisements to newspapers, but only halting "a category of advertisements," and adjourned the hearing. - Agencies/Photo courtesy: Samaa TV