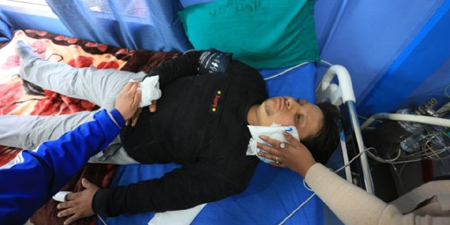 JournalismPakistan.com December 11, 2019


Police attacked Suman Chapagain, a journalist with Nagarik News, while he was reporting on protests at the Dasrath Stadium during the 13th South Asian Games (SAG) on December 10, 2019.
The International Federation of Journalists (IFJ) and Federation of Nepali Journalists (FNJ) have condemned the police violence and urged an investigation into the attack.
According to reports, sports journalist, Suman Chapagain was severely beaten by police while taking photographs of football fans clashing with police over the lack of tickets available for the final game.
The incident occurred when the police conducted a baton charge to disperse the fans. Chapagain suffered injuries to his ear from the attack and was admitted at Tripureswor's Blue Cross Hospital for treatment. Following the incident, sports journalists staged a sit-in protest at the Dasrath Stadium, demanding an investigation.
FNJ said: "Such incidents not only discourage journalists from their profession but raise serious questions about the state's responsibility to ensure the safety of the journalists. We condemn such attacks and demand an immediate investigation."
The IFJ said: "Police interference with journalists' rights to gather information is a gross violation of press freedom. The attack indicates a culture of police insensitivity to the freedom of the press. The IFJ condemns the attack on Suman Chapagain and calls for an immediate investigation to hold authorities to account." — IFJ media release