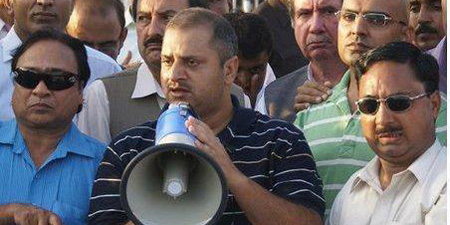 JournalismPakistan.com December 11, 2018


KARACHI - Pakistan Federal Union of Journalists (PFUJ) has condemned the Sindh government for conducting a raid on the house of veteran journalist Shabbar Azami.
"The police raid on the house of bed-ridden Shabbar Azami, who suffered a paralysis attack a few months ago and is wheel-chair bound is not only highly condemnable but also a shameless act," said a joint statement issued by PFUJ President Afzal Butt (pictured, center) and Secretary General Ayub Jan Sarhandi.
They said that the police raid was led by a man in plain clothes and appears to be a part of the government's plan to curb the free voice in this country.
"This is the second such action in Karachi during the last three days and speaks volumes about the ill-intentions of the government," the statement said.
The two leaders condemned the Sindh government for failing to take any action against the officials who are conducting these raids and making arrests to harass the media industry in general and journalists in particular.
"We are surprised that a political party which always stood for the freedom of expression and fought the army dictators is now itself allowing such acts in its province," the two union leaders said.
"We call upon Bilawal Bhutto Zardari to seek an explanation from his party's government in Sindh over these illegal actions and inform the journalists' community about the forces which were behind these acts.
"We once reiterate that journalist community across Pakistan cannot be cowed down by such tactics and that we will defend freedom of expression at every cost," the joint statement said.
Photo: Facebook