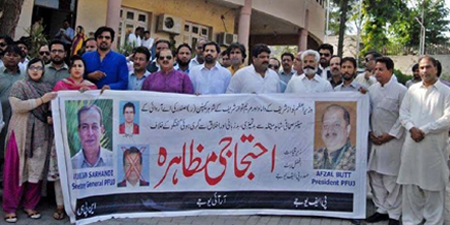 JournalismPakistan.com July 07, 2017


RAWALPINDI – A top union leader Friday warned of protest in front of the Parliament House if prime minister's son-in-law did not prove his allegations he leveled against a senior journalist.
Afzal Butt, President of Pakistan Federal Union of Journalists (PFUJ) made this announcement during a protest organized by Rawalpindi-Islamabad Union of Journalists (RIUJ) in Rawalpindi. It was the second protest in two days against Capt. (Retd) Safdar.
Safdar is Prime Minister Nawaz Sharif's son-in-law and spouse of Maryam Nawaz.
The journalists gathered in front of the Rawalpindi Press Club and chanted slogans. They called for an apology from Safdar if he did not substantiate and prove his allegations against journalist Shahid Matela of ARY News.
Safdar, instead of answering a question by Shahid made accusations against him during a live telecast of his media briefing outside the Federal Judicial Academy.
The RIUJ has also written a letter to Safdar demanding he prove his allegations, or apologize.