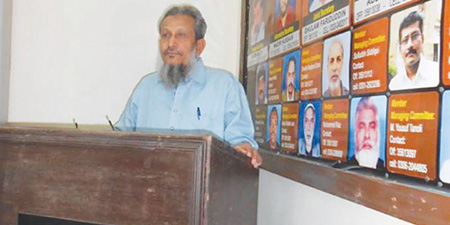 JournalismPakistan.com December 08, 2018


KARACHI - Pakistan Federal Union of Journalists (PFUJ) has expressed its deep sorrow and grief over the death of Shafiuddin Ashraf, Chairman All Pakistan Newspapers Employees Confederation (APNEC).
"Our hearts are bleeding, and we have no words to express our sorrow at the death of Shafiuddin Ashraf," said a joint statement issued by PFUJ President Afzal Butt and Secretary General Ayub Jan Sarhandi.
"Shafiuddin Ashraf spent all his life struggling for the rights of the workers of the media industry, and we have no words to pay tributes to his services to the workers."
They said that Ashraf belonged to the working class and hence was aware of their problems and spent his life fighting for their rights. "He was a principled man and stood by his principles firmly throughout his life, and it was for this reason that he had been elected unopposed the President of daily Dawn for over 30 years."
The two leaders said that his services as chairman APNEC would be long remembered especially the role he played in increasing the wages of workers in the Wage Board Awards.
"He was a beacon of light for all the trade union leaders in this country," they said adding "he was an upright, honest and straightforward person who lived all his life without seeking any special favor for himself and his family.
"Our heart goes out to the family members of Shafiuddin Ashraf, and we equally share their grief and loss."
The PFUJ leaders also expressed their sincere sympathy with the media industry workers in general and particularly with Dawn workers over this great loss.
The PFUJ has called upon its affiliated unions of journalists to cancel all union activities for three days to mourn his death.
Photo courtesy: Dawn.com