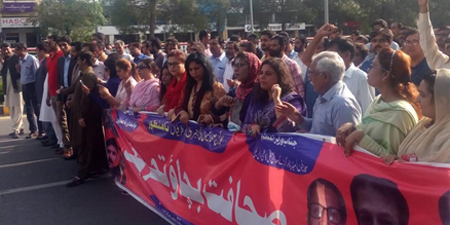 JournalismPakistan.com October 10, 2018


ISLAMABAD – The Pakistan Federal Union of Journalists (PFUJ) held protests throughout the country on Tuesday against the unannounced censorship and arbitrary redundancy of media workers in many organizations and disbandment of commercials to TV channels and newspapers by the government.
Journalists, media workers, lawyers, doctors, social and political activists and other members of the civil society took part in the protests.
President PFUJ Afzal Butt and Secretary General Ayoub Jan Sarhandi had called for the demonstrations.
In Peshawar, President of Khyber Union of Journalists Saif ul Islam Saifi and Secretary Faizan led the protest outside the Peshawar Press Club demanding the removal of the ban on commercials by the government and lifting of censorship on media and reinstatement of media workers.
In Abbottabad, President of Abbottabad Union of Journalists, Naveed Alam and Secretary Saqib led the protest in the form of a rally from the press club to the Thana Cannt Chowk.
President of Rawalpindi-Islamabad Union of Journalists Mubarak Zeb Khan and Secretary Ali Raza Alvi led the protest march from the National Press Club to D-Chowk. The protest turned into a sit-in for three hours.
President PFUJ Afzal Butt specially attended the march and vowed that journalists would not tolerate silencing of their voice. A large number of civil society members, labor union leaders, lawyers and others attended the protest.
Similarly, President of Gujranwala Union of Journalists, Adil Akram led the protest from the press club to the secretariat roundabout whereas the president of Punjab Union of Journalists Naeem Hanif and Secretary Faisal Durrani held the protest outside the Punjab provincial assembly.
Protests also took place in Faisalabad, Multan, Bahawalpur, Rahim Yar Khan, Sukkur, Hyderabad, Karachi, Azad Kashmir, and Gilgit Baltistan.