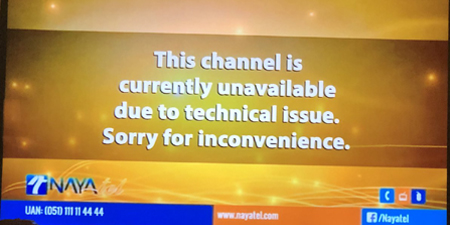 JournalismPakistan.com April 05, 2019


KARACHI - Pakistan Federal Union of Journalists (PFUJ) has strongly condemned the forcible closure of 24 News Television by regulator PEMRA at the behest of the government.
"We are receiving reports that PEMRA, at the behest of the government, is calling the cable operators and forcing them to take off the transmission of 24 News," a statement issued by PFUJ President Afzal Butt and Secretary General Ayub Jan Sarhandi said.
"We have also been informed that the transmission of 24 News has already been taken off air in many cities across Pakistan. The PFUJ sees this action of the government as a direct attack on the freedom of the media," the statement said.
Since the installation of the newly-elected government, media has been under constant attack, and consistent efforts are being made by the government to curb the freedom of expression, the union leaders pointed out.
"Already there is unannounced censorship imposed by the government and the state institutions in the media. To achieve this objective the government first crippled the media financially by stopping the advertisement dues to media organizations and squeezing the adverts simultaneously.
"Now the government has launched naked aggression against the media by threatening the cable operators to take off the air such channels which do not follow the government's line," the joint statement added.
The PFUJ also expressed concern over reports that the Council of Complaints which is a part of PEMRA had convened its session in Islamabad to hear a complaint against 24 News.
This step, it observed, smacks of government vendetta against the channel as in normal circumstances such charges are heard in the same city where the headquarter of the network is located against whom the complaint is to be heard. It said while the head office of 24 News is in Lahore, hearing taking place in Islamabad was questionable.
"The PFUJ once again warns the government to desist from curtailing freedom of expression; otherwise the journalists' community would do all within its power to defend it. We also call upon political parties and civil liberty organizations to raise their voice and stand up for the freedom of expression in this country.