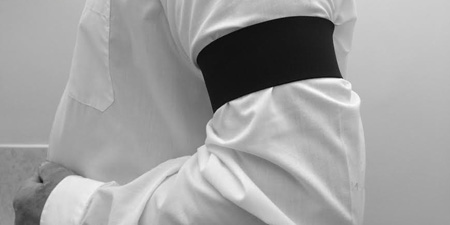 JournalismPakistan.com July 08, 2019


The Pakistan Federal Union of Journalists (PFUJ) and the All Pakistan Newspaper Employees Confederation (APNEC) will observe July 16 as Black Day across the country, against forced retrenchments in media, wage delays, and unannounced censorship.
After three days of extensive deliberations on the prevailing situation in the industry, and all the issues confronting journalists, the Federal Executive Council (FEC) of PFUJ and APNEC decided to fly black flags on press clubs on July 16.
According to plan, journalists and media workers will wear black armbands as a mark of protest against the highhandedness of owners of media houses, government authorities and forced and unannounced censorship and advice imposed by unknowns hands.
The meeting also announced holding the Biannual Delegates Meeting (BDM) from November 15-17 in Karachi.
Acting Chairman of APNEC Irfan Ali, and PFUJ President Afzal Butt urged all the unions to sensitize media workers and journalists about their rights, raise voice against forced and unannounced censorship, and arrange seminars to highlight issues confronting journalists by inviting a cross-section of the society and civil society members.
At the central level, a seminar will also be organized in Islamabad, and all the stakeholders, members of civil society and political leadership of all the leading parties will be invited to share their views and devise a strategy to deal with the deteriorating media freedom in the country.
Earlier, the political leadership of PPP and PMLN also addressed the FEC meeting and demanded joint action against the prevailing situation and arm twisting of media and journalists.
Farhatullah Babar (PPP), former Prime Minister Shahid Khaqan Abbasi, and Maryam Aurangzeb, former information minister of PMLN said that current tirade had been launched by those who talk of fifth generation war, and those elements and their chain of command needed to be exposed.