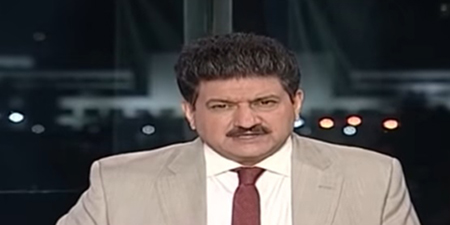 JournalismPakistan.com June 04, 2021 Published 13 days ago


LAHORE—A petition was filed against Hamid Mir in the Lahore High Court on Friday for "serious derogatory remarks and allegations against the disciplined institution of Pakistan."
Sardar Farrukh Mushtaq, through his advocate Nadeem Sarwar, filed the petition, making the Federation of Pakistan through the Ministry of Law and Justice, the Ministry of Interior, and Mir as respondents.
According to Dawn.com, the petition said Mir's behavior amounted to contempt of society and its institutions and that the respondents had failed to take appropriate action in accordance with Section 124-A (Sedition) of the Pakistan Penal Code, 1860.
The petition said: "Sedition is a crime against the whole society, in all civilised countries and orderly governments. The integrity and preservation of [the] state and its institutions is [a] matter of great vital concern and is so sacred that no attempt at its disruption or weakening, directly or indirectly will be countenanced."
However, Dawn.com reported that the LHC's registrar's office objected, saying the application had not been first submitted to the relevant forum and had instead directly filed to the high court.