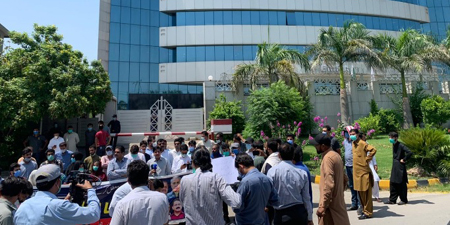 JournalismPakistan.com July 06, 2020


ISLAMABAD—Islamabad Police on Monday arrested two security guards, one of whom allegedly fired at journalists protesting the suspension of 24 News Television outside the offices of electronic media regulator PEMRA.
A journalist at the scene tells JournalismPakistan.com that one guard fired an aerial shot while the other aimed for the crowd, but missed.
The angry protesters led by Rawalpindi-Islamabad Union of Journalists (RIUJ) filed an application with the police, who later made the arrests. The media persons also named PEMRA chairman in their complaint and are pressing for his arrest.
Last week, PEMRA suspended the license of 24 News for not complying with its order to switch to its original programming of entertainment.
In a notification, the regulator stated that Value TV holding license for entertainment content was persistently, illegally, and unlawfully airing news and current affairs in violation of PEMRA laws.
PEMRA said, 24 News was provided ample opportunities to revert to its original content.
Meanwhile, the Pakistan Federal Union of Journalists (PFUJ) condemned the incident. President Shahzada Zulfiqar and Secretary-General Nasir Zaidi demanded action against those involved and called for an inquiry.
"This is an attempt to terrify journalists protesting the loss of their livelihoods," they said and criticized PEMRA for suspending 24 News transmission.