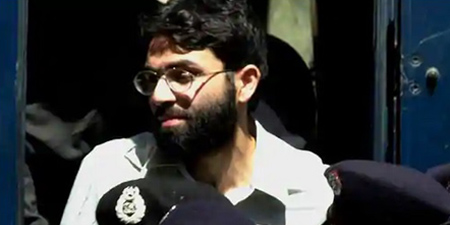 JournalismPakistan.com January 30, 2021


ISLAMABAD—Dawn has termed the Supreme Court decision of releasing Ahmed Omer Saeed Sheikh (pictured) in the murder of Daniel Pearl "a blow to not just the family of the slain journalist but also to proponents of free press everywhere."
Sheikh, the main accused in the murder of the Wall Street Journal's bureau chief for South Asia in 2002, was acquitted by the apex court last week.
In its editorial, Sheikh's acquittal, the paper said given the ghastly nature of the crime he has been accused of, and the long and painful fight of the Pearl family for justice, it is no surprise that both his family and the new US Secretary of State Antony Blinken have condemned the decision in strong words.
"The fact that Sheikh, a notorious man who is allegedly involved in some high-profile crimes that transcend borders, will soon be free is yet another startling chapter in his cryptic life story."
The paper maintained the British-born militant who dropped out of the prestigious London School of Economics and disappeared into the Balkans —only to resurface later in India where he was arrested then freed in a hostage exchange—has been all too lucky in his trysts with danger.
"The fact that this man has always been a step ahead of the authorities is mind-boggling. Perhaps the world will never learn what his true role was in Daniel Pearl's kidnapping and murder. But despite that, there are enough signs that he is a dangerous man who should remain behind bars."
Terming the acquittal a failure of Pakistan's law-enforcing agencies, Dawn said it would send a message that there is no justice for those who harm journalists in Pakistan and that their killers continue to roam free.
Photo: AP