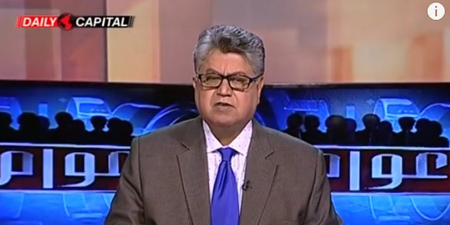 JournalismPakistan.com October 19, 2018


ISLAMABAD – Veteran journalist, broadcaster and analyst, Murtaza Solangi has bid goodbye to Capital TV.
He announced on Twitter that he was ending his relationship with Capital TV immediately. He, however, did not cite the reason for leaving the channel.
"All good things come to an end. I am ending my relationship with Capital TV, effective immediately. Thanks to all my colleagues for the good memories. My journalistic journey continues."
His followers appeared saddened over his decision.
"Very sad to hear how all voices with a difference being silenced - take care," tweeted author Ayesha Siddiqa.
Aniq Zafar, a journalist and communication expert, said in his tweet: "This is sad. Wish you and your voice the best. Silencing difference of opinion will not give any win to the forces of censorship."
Solangi is a former director general of Pakistan Broadcasting Corporation (PBC) and has also worked for Voice of America. He hosted the program Awaam on Capital TV.