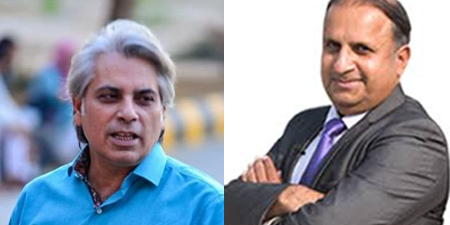 JournalismPakistan.com October 27, 2018


ISLAMABAD –Mubashir Zaidi (pictured, left) of DawnNews has accused 92 News analyst Rauf Klasra (pictured, right) of getting a plot of land in violation of rules by seeking favor from former Prime Minister Yousaf Raza Gillani.
Zaidi tweeted to point out that Klasra's name was 29th on the waiting list, and he was not entitled to a Category I plot in Islamabad. However, "he got a 500-yard plot in G-14….isn't it corruption," he asked.
He also posted a 2009 notification issued by the Ministry of Information and Broadcasting. It states that as per the decision of the Lahore High Court, Rawalpindi Bench, plots in Category I and II be allotted to four journalists, Klasra not among them.
Zaidi requested Information Minister Fawad Chaudhry to dig out Klasra's file which would prove how he got the plot.
Late last year, Klasra filed a written complaint with the Federal Investigation Agency (FIA) against Zaidi. He accused him of launching a campaign against him, his wife and family on social media. He also demanded to prove the allegations.
Klasra, on the other hand, tweeted to point out that according to FIA's Cybercrime Wing, Zaidi filed baseless allegations against him, and he could not provide any proof to the investigators.
Klasra, who worked for The News when he reportedly got the plot, said in another tweet that FIA had submitted its inquiry report in court. It has sought permission for registration of FIR against Zaidi, he said.